Normandie
Lavish Villa in Middelkerke with Sauna This is a tastefully designed luxury villa with 5 bedrooms that accommodates 12 people and is located in Middelkerke. It is the ideal spot for a relaxing summer vacation as it has a bubble bath, sauna, and is located only 700 m from the beach. Middelkerke is a beautiful seaside resort with many shops and restaurants. The coastal ...
Max. 12 personen.
Bedrooms: 5.
Beach distance: ±400 m.
Normandpark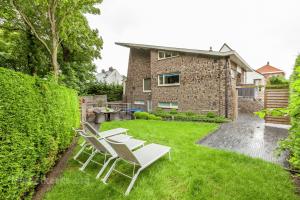 Luxury Villa with Sauna and bubble bath in Middelkerke This is a luxurious 4-bedroom villa for 14 people located only 500 m from the Middelkerke beach. A bubble bath, a Finnish sauna, and an infrared sauna top that up to make it the perfect place for the most relaxing summer vacation. Middelkerke also offers other attractions, such as its local cafes and casino. Fort ...
Max. 12 personen.
Bedrooms: 4.
Beach distance: ±400 m.
Miami
Splendid VIlla in Middelkerke with Sauna, bubble bath, Terrace In this fantastic, luxurious, detached villa in Middelkerke, you find yourself in real luxury. This 5-bedroom villa has an infrared sauna and the outdoor bubble bath are a real delight when travelling in a group of 20 people. The sea is only 500 meters away, where you can take a nice stroll across the ...
Max. 20 personen.
Bedrooms: 5.
Beach distance: ±400 m.